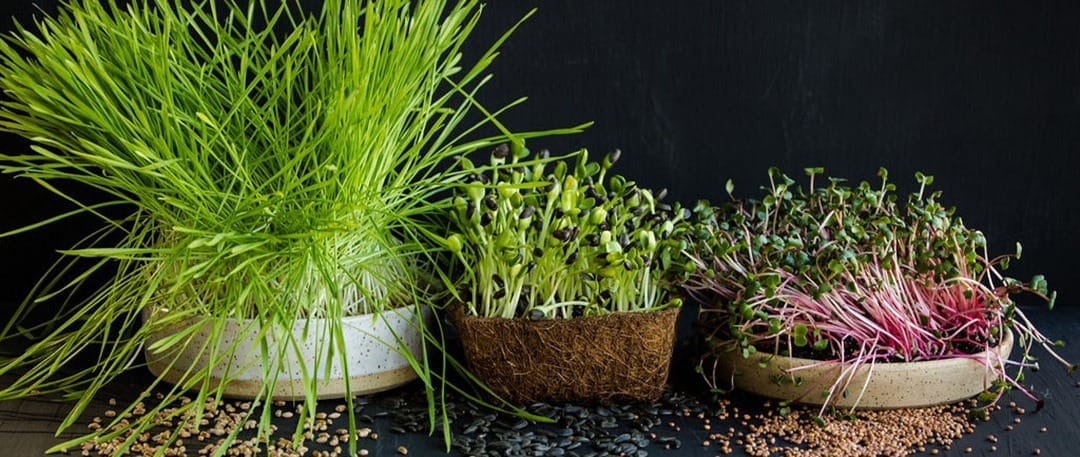 PROCEDURE FOR THE SUCCESSFUL GROWTH OF MICROGREEN ON TOP SOIL
Materials: 20″ x 10″ (standard) or 10″ x 10″ seedling tray , top soil and your favorite seeds. You can consult our information table to know the method of culture as well as the different times of soaking, culture and growth.
1
Put the desired amount of seeds in a jar. Fill the jar with fresh water. Note that mucilaginous (gelatinous) varieties do not require soaking.
2
Let the seeds soak away from direct light. Small seeds require 5 hours soaking, large seeds 10 hours and legumes 12 hours; follow the instructions on the information chart.
3
Rinse the seeds thoroughly, until the water in the jar runs clear. Drain.
4
Fill a tray with a layer of seedbed soil of about 2.5 cm (1 inch). Moisten the top soil well.
5
Sprinkle the seeds evenly over the soil and water lightly with a spray bottle. Cover the seeds with another tray (it is not necessary to cover them with soil). It is important that the surface of the tray is in contact with the seeds to promote germination during the first few days.
6
Water once a day with fresh water. After 3 to 4 days, remove the top tray and place your shoots near a light source.
7
Harvest your microgreen after 8 to 10 days, on average. The growth time is relative to the room temperature.